My trusty ford fiesta is coming to the end of it's life, which has been a hard one as it's been my family car plus work car. The latter is a job it's not best suited to as I'm an electrician and have a lot of gear to carry.

As I need a vehicle that can carry my kids on the weekend and my tools in the week I'm looking to buy a used double cab pick-up truck. My budget is only about £4000 and looking on auto-trader I'm probably going to have to buy a ten year old Ford Ranger or Mitsubishi L200.

I'm more drawn to the Ford as it looks a bit more professional, my only concern is security of my gear in the back and I was wondering if anyone has any experience of building from scratch or fitting prefabbed boxes in the back.

I have a fair bit of metal fabrication experience so I'll need to weigh up the cost  and time of building form scratch or buying and was hoping to hear about your experiences and how secure you felt the end results were, i.e. were you happy to leave tools in the truck over night or only when it was impractical to take them all out.

douggie

Newbie





Posts

: 18



I use my Navara for work and play.
I have a canopy on the back of mine and also I made up a sliding drawer system so all the parts I need to carry are hidden from sight in the draw and it still leaves me plenty of covered space to load stuff into the back.

I leave my tools and spare parts in the back all the time. In my theory if some wants something out of the back that isn't there's they will find a way and take it weather its locked out of sight or not. So provided you lock what ever you use to cover the back (ie canopy / roll and lock cover etc) and have insurance cover for your tools and equipment you'll be fine.


jpmc

Expert





Posts

: 1155


Location

: New Zealand


:

:



I like the idea of a sliding draw system. Have you posted any photos on here i could look at?

Providing you put a hard cover/ good lock on the back are the insurance companies ok about offer tool cover?

douggie

Newbie





Posts

: 18



I haven't loaded photo's here but I'll put some up tomorrow for ya, watch this space.

Not sure about insurance up your end of the world but down under my insurance sure does cover me.


jpmc

Expert





Posts

: 1155


Location

: New Zealand


:

:



Thanks man, look forward to seeing your work, will hopefully give me some ideas on how to fit out my own truck

douggie

Newbie





Posts

: 18



No worries. I'd go and get some for you now but it's 10pm and raining/hailing down here at the moment so I'll wait for the morning.

jpmc

Expert





Posts

: 1155


Location

: New Zealand


:

:



Ok here is what my drawer looks like.  Please excuse the mess!
It goes the length of the deck and the top sits just above the wheel arches. It slides out on roller bearing casters.
I built it with the top sliding also but have since found no use for that. One day when I'm feeling rich I'll either get a professional one or remake my one more tidally but until then it works a treat and once the tail door is closed you can't see it. Also with the tinted windows on the canopy at night if you look in it looks like a empty tray.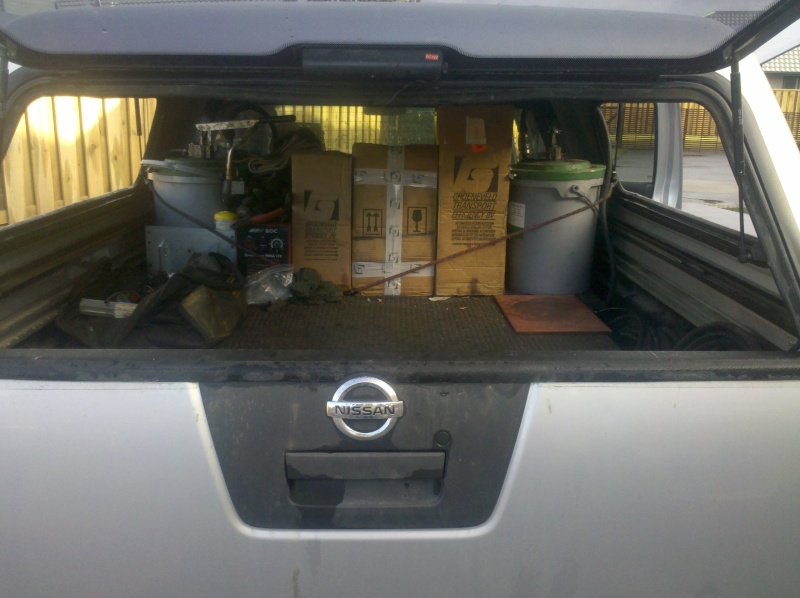 jpmc

Expert





Posts

: 1155


Location

: New Zealand


:

:



Thanks for posting the photos man. I like what you've done and your right, as the top is lower than the side widows it's hard to tell there's anything there.

I'll probably do something similar so my power tools can be locked away out of site and all the crap no one would want to nick can go on top.

douggie

Newbie





Posts

: 18



---
Permissions in this forum:
You
cannot
reply to topics in this forum